If you follow me on
Instagram
, you may have caught one of the most fun moments of my year - getting to meet THE MARTHA STEWART in person. Yes, I can die now! If you are wondering just how I got to be standing next to Martha with a frozen expression on my face, read on...
Shutterfly
asked if I would like to attend their 2014 Shutterfly by Design event followed by a cocktail party at the home of Kevin Sharkey, SVP, Executive Editorial Director of Decorating, and Executive Creative Director of Merchandising at
Martha Stewart Living
.Um, let me think about that for a second. Yes of course!
This was my first year there and I wasn't quite sure what to expect, but I have to say I was floored! Of course I'm familiar with Shutterfly for prints but I had no idea how many other products they offered beyond just photo prints. Add that to the fact that the event was styled by some pretty amazing designers, I couldn't take it all in fast enough. Lots of inspiration here. Check it out…
Great work by everyone involved including
Brit Morin
,
Michelle Workman
,
Olivia Palermo
,
Jennifer Hadfield
,
Kim Stoegbauer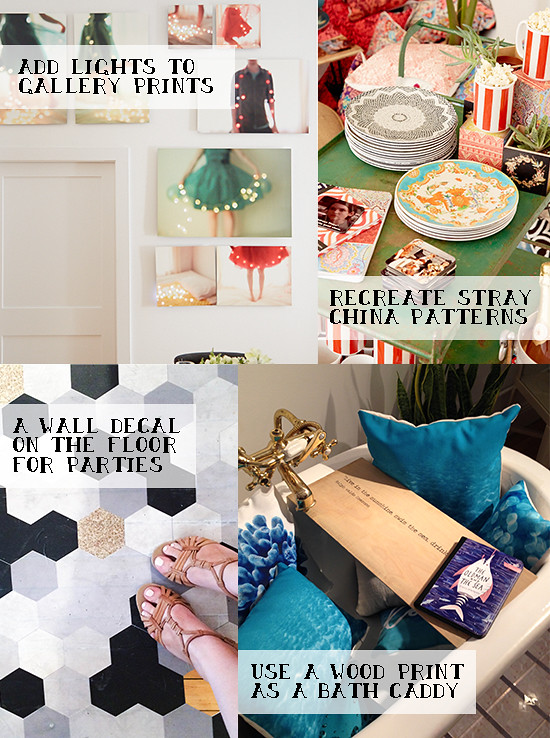 How about a wall gallery of
metal prints
;(yes, Shutterfly makes metal prints, who knew?) artfully displayed with LED lights? The effect was just gorgeous. Really smart and so impactful! Or using a wood print in place of a stainless steel bath caddy by placing it across a claw foot tub? Why didn't I think of this before?
Or what about recreating a favorite antique china plate onto melamine dishware for outdoor entertaining? Yes, they make
dishes
too! Especially genius for those of us who scour thrift stores and always seem to find a single gorgeous plate without the rest of the set. Or what about using a
wall decal
on the floor as a very clever party decoration? Ok, enough gushing. I think you get the idea.
After seeing all that goodness, it was time to shake hands and make weird expressions next to Martha Stewart. I was so excited about it all, my brain must have malfunctioned and put an immediate stop order on the brain synapse that tells my face to smile. Despite the lack of photo evidence, TRUST - I was dancing on the inside.
Added bonus for meeting some other talented ladies as pictured above - Kelly of
Eclectically Vintage,
Alana Jones-Mann
&
Linda Facci
.
After that red-letter moment, we were off to a cocktail party at Kevin Sharkey's gorgeous Tribeca apartment. For the event, he put his own spin on some of the Shutterfly products using a marble pattern. For example, he created a faux marble umbrella stand using an oversized floor vase and wall decal. Then using that same decal, created an inlaid marble look on his bathroom mirror. The same pattern was repeated on pillows, curved glass prints, used as serving dishes, tableware, and notepads for a classic, timeless look.
But the fun doesn't end there. Shutterfly has asked me to try out a few products in my own home. Once again, the answer was a definite yes! After all the eye candy I experienced at the event, my head is swimming with ideas.
Want to give it a try? Shutterfly is running a great buy more, get more promotion starting July 10. 50% off $100+ / 40% off $50+ / 30% off orders less than $50. Promo code is: GETMORE
Disclosure: This post was sponsored by Shutterfly and Martha Stewart but all of the opinions expressed are my own.