Confession: Our back deck has always been a problem. It gets full sun and snow and weather exposure so no matter what product or paint I've tried, I haven't had much luck in keeping it looking good for any extended period of time. Case in point, we just painted the deck boards last year and they already looked like they hadn't been touched in a decade. The kids couldn't play out here because of the splinter issue and so I never put much effort into making it nice.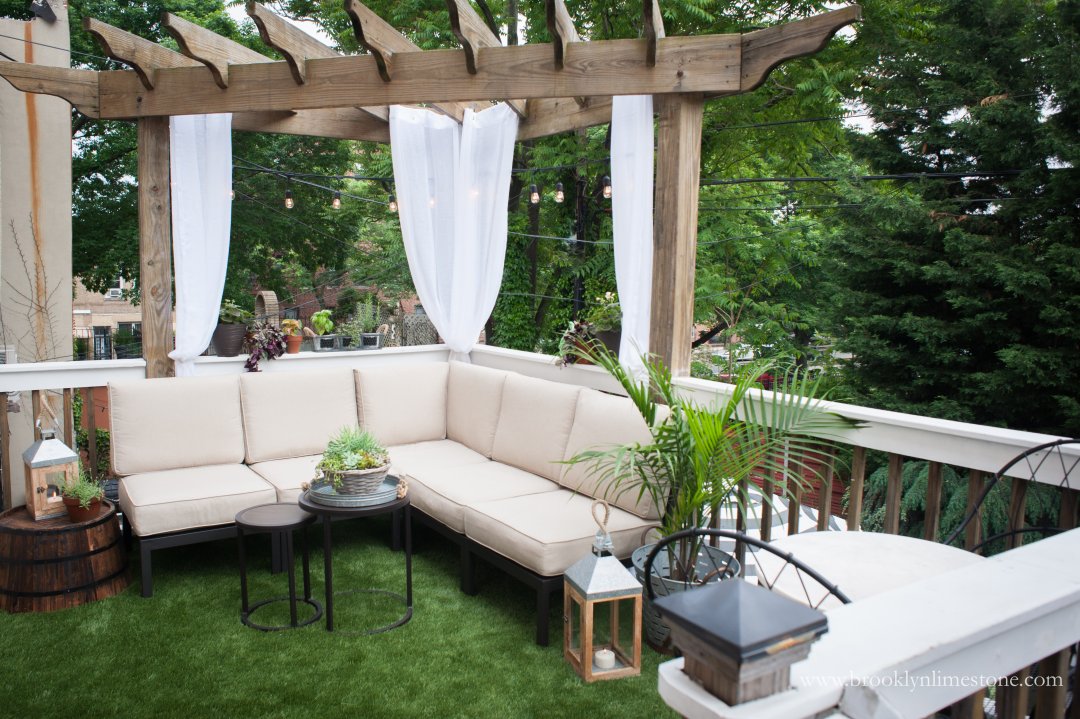 Despite it's relatively small size, I knew it could be a great addition to our home. An outdoor living room for city life complete with lounging and eating area. But the battered floor boards always stopped me in my tracks.
That was until I had the idea to cover the boards with faux grass. Until I started doing some research, I had no idea how far faux grass had come in the past few years. I was only familiar with that tacky green rug like turf that I had seen growing up. Well it's come a long way baby! It was definitely a risk but one I was willing to take.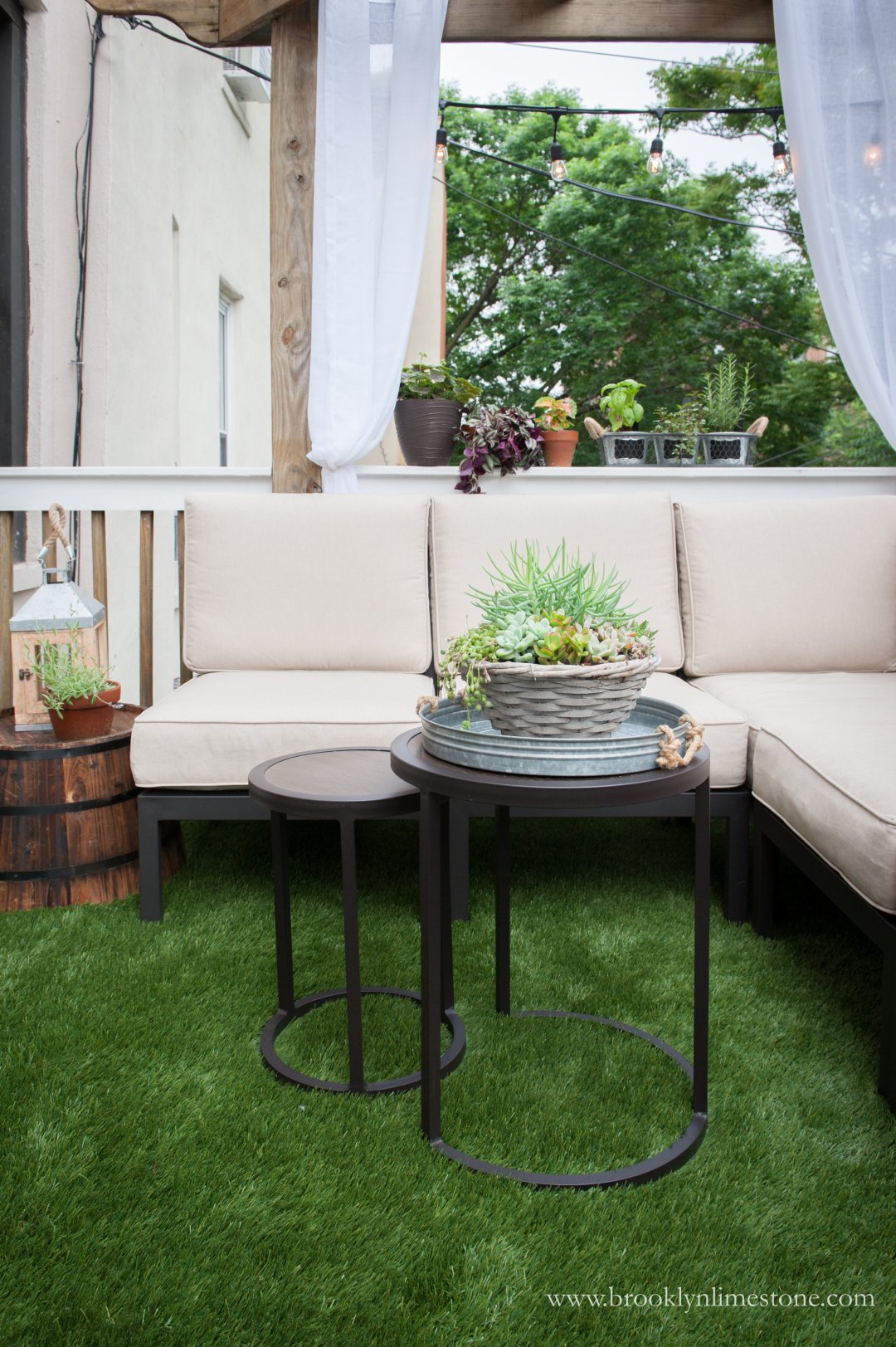 Luckily Lowe's carried the perfect product -
Sequoia Everlast Artificial Grass
- it had some great reviews and came in variable widths. Despite it being somewhat unruly to carry, it was surprisingly easy to install. Unroll, cut around the edges and post and voila. It was transformed! It was soft underfoot and the kids immediately fell in love with it. Cue rolling around on the deck laughing.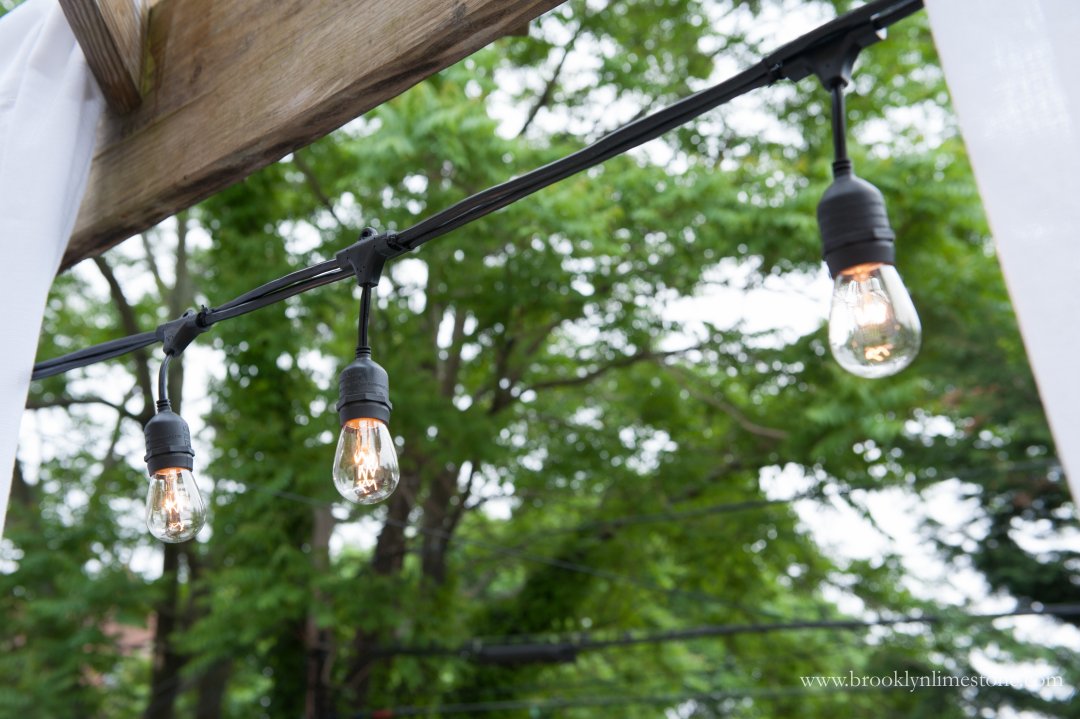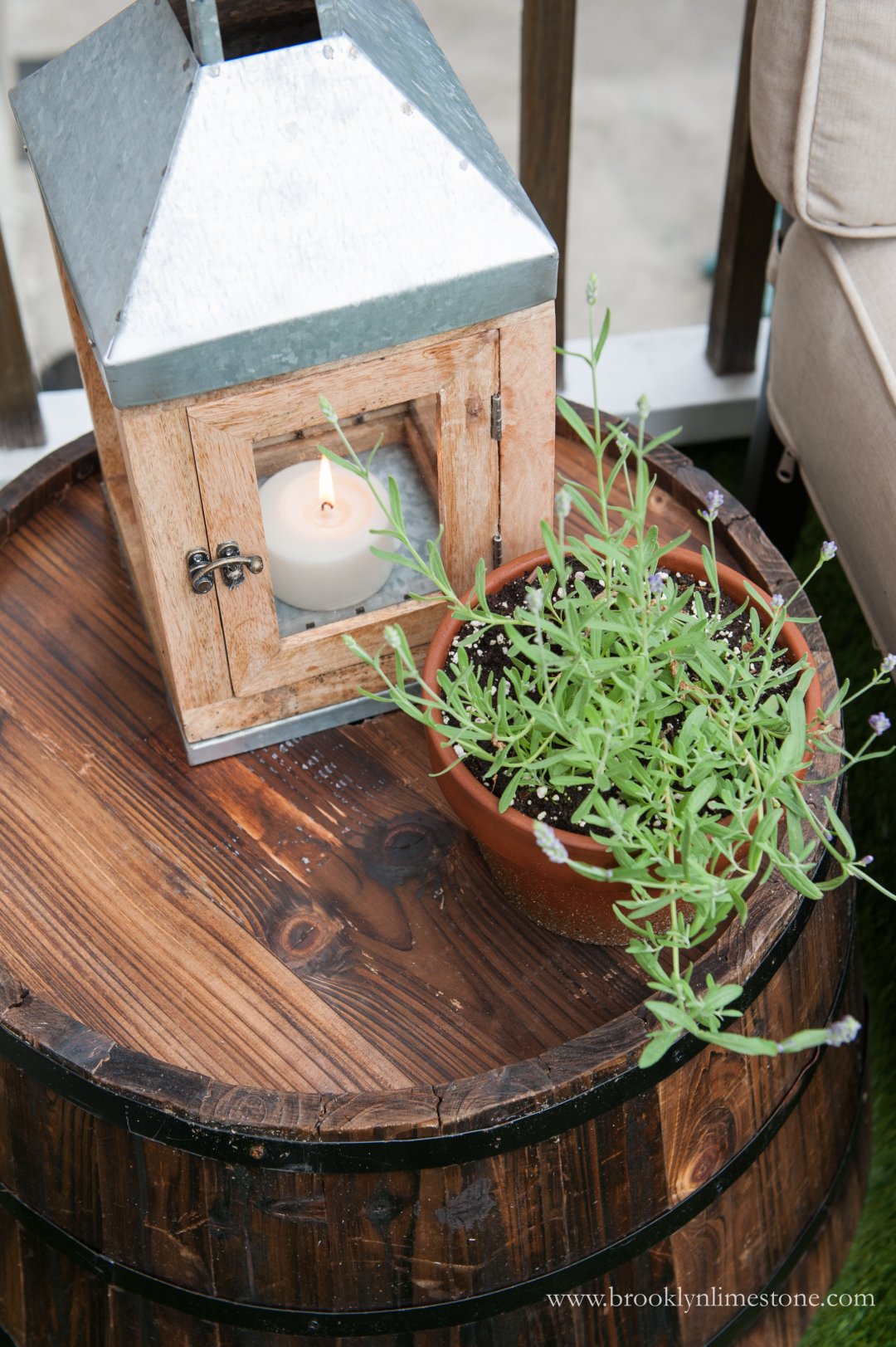 Now that we had a space we could really enjoy, it needed some furniture. Back to Lowe's I went. The most important piece was the seating and I got lucky and found an L shaped
Outdoor Sectional
that was a perfect fit. I used an upturned
barrel planter
as a side table and 2 piece
nesting table set
as a coffee table. The bistro set I had from 10 years ago fit perfectly into the other side to create a little dining (okay, coloring and outdoor craft) area.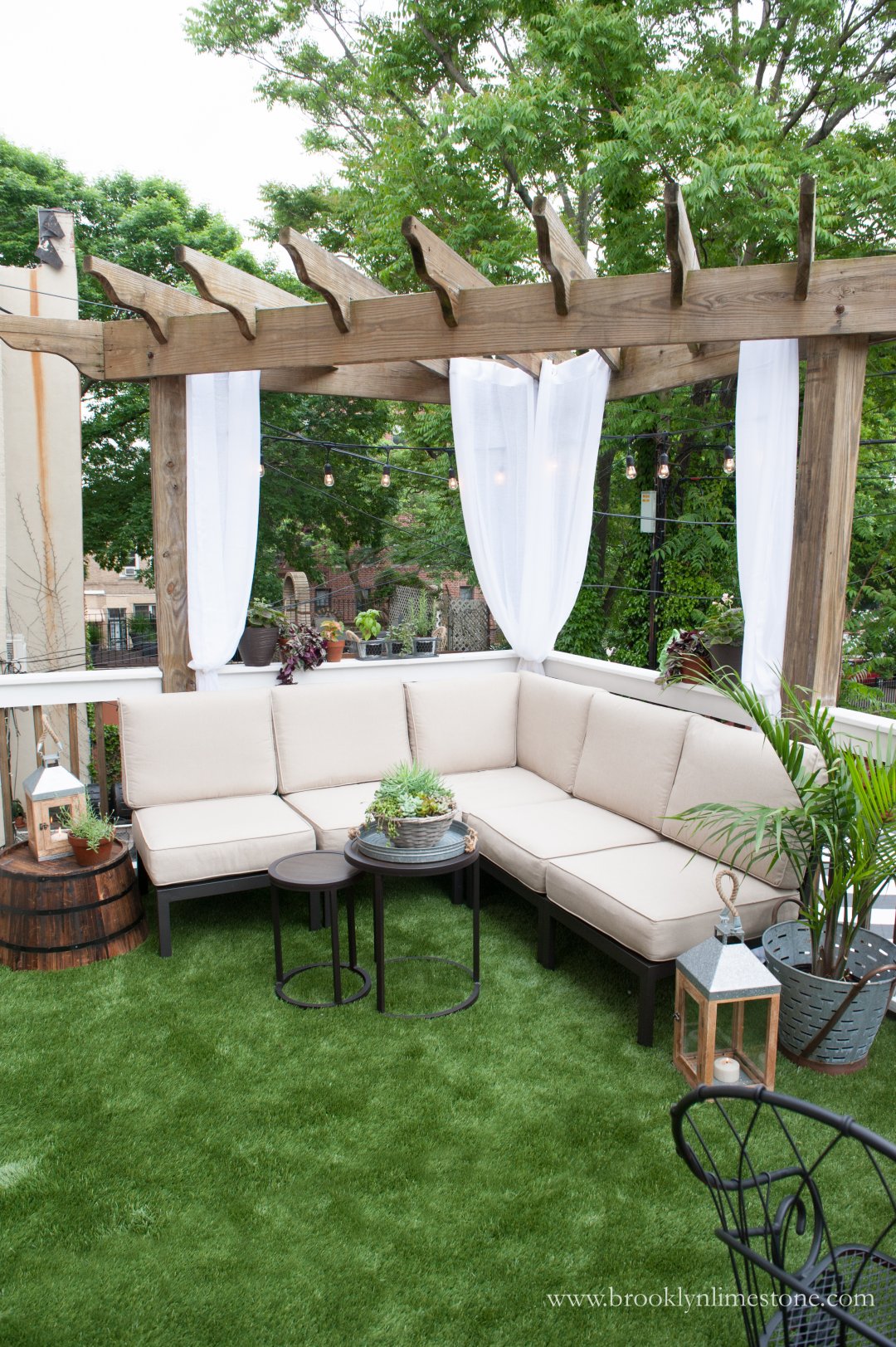 Heavy duty
string lights
fit perfectly across the pergola posts (this is one strand doubled so that the bulbs are closer together) paired with a set of stylish
lanterns
add some nice light. A
majesty palm tree
tucked to the side adds a little bit of tropical luxury to the space. All installed in a few hours!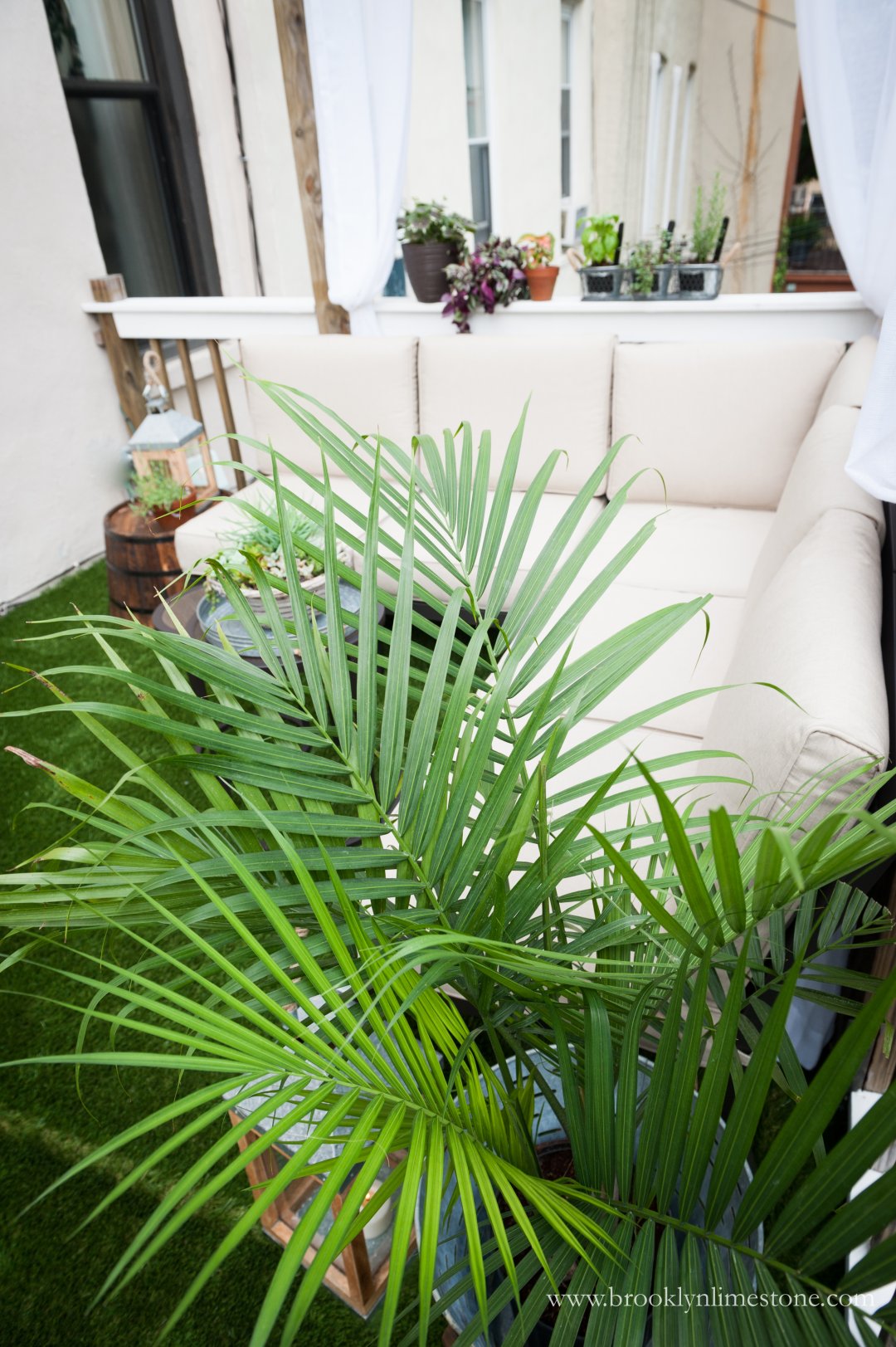 The budget? All this for less $1300! Well worth it for adding an entire other lounging space for the whole family to enjoy.
Not only do we get to use this space when the weather is nice but I have also improved my view since this is what I see out of my kitchen window. We spent more time out on the deck the first weekend than we did in all 10 years prior.
Disclosure: This post was sponsored by Lowes Home Improvement. All opinions expressed are my own. Thanks to wonderful partners like Lowe's that make this blog possible.