You'll have to forgive me for this photo heavy post but I think it will give you a far better understanding of our trip than anything I could possibly write. In short, we ate and shopped our way around Seoul, Korea. As far as I can tell, that is about as an authentic way to see this city as possible - I regret nothing!
As the post title implies, we took Aggie with us (of course!). The thought of taking a toddler on a 18+ hour flight seemed to horrify most people but there is no question having her there made the trip all the more fun. Don't get me wrong, I wasn't looking forward to the flight but it turned out perfectly fine - she played mostly happily for the flight there and slept nearly the entire way back. She adjusted to the time change around the same time as we did both going and coming. In other words, I had worried over nothing.
We decided to stay a little bit outside the city center at hotel called
The Classic 500
which is located in the very busy area around
Honkik University
. Plenty of activity surrounded us but we were a little bit out of the way for the more popular markets and tourist attractions. We rented a one bedroom which allowed us to have baby snacks in the fridge and put Aggie to bed at a decent hour while we could still stay up and enjoy the evening in the living room. The apartment was huge and gave us lots of space to run around. Having the extra space more than made up for a few extra minutes on the subway everyday.
Once we got settled in, we quickly learned that Koreans love children. We didn't go anywhere without people stopping to give Aggie a treat or take photos with her. One woman gave her money and refused to take it back. It was crazy in the most fun and welcoming way possible. As a result, we experienced a side of Seoul we would have never even guessed if we had been there as a twosome.
One of the more fun things about Seoul is that the locals are snack masters. We couldn't go a few feet without stumbling upon a small bite of something that was absolutely delicious. And we tried a lot! These little breakfast egg cakes served on street carts throughout the city were my favorite.
We spent a lot of time in the open markets. The shopping is so incredibly plentiful and excellent. Especially for children's clothes and shoes - the quality was high, prices not outrageous and the fashion unbeatable. (Sadly, Im far too gigantic to fit into any women's fashion there but if you are petite, this is the place to be for women's shopping) My favorite market was definitely
Namdaemun
as it was large, easy to navigate and had some of the best shopping and food. Since we only use one suitcase between the 3 of us, I had to resist buying Aggie a whole wardrobe here.
Another highlight of the trip was
Noryangjin Fish Market
. I was concerned it might be a bit difficult to navigate with a stroller but it was just fine (and there were several other families with strollers there too). After being wow'd by the sheer size of this place and deciding what to feast on, you get walked to a restaurant that will cook whatever you just purchased. The tourist specialty is eating a live octopus which of course we did and loved it. It's really not as bad as it sounds. Also had some great sea urchin and crab. Yum!
Seoul is a huge city by any standard but has an excellent subway system that took us everywhere we wanted to go. We spent lots of time walking around and riding the rails.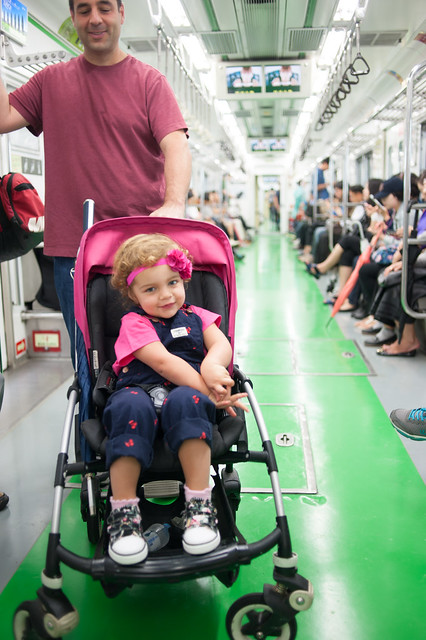 As a special treat we took Aggie to
Pororo Park
- the indoor theme play space hosted by Korea's most famous penguin. To say that Aggie loved it would be an understatement. She literally ran around with extreme delight to every attraction and couldn't get enough. It was a great way to burn off some energy while we got the joys of playing with her. We had so much fun we went twice during this trip. Highly recommend it!
Not to be forgotten is our visit to a cat cafe. There are quite a few dotted around the city but we went to one near our hotel -
Godabang Cat Cafe
. Lots of fun playing with all these adorable kitties. I was worried it might be dirty or smell but my fears were unfounded - these cats are very well cared for and the cafe was spotless. We were surrounded by locals who were clearly regulars who loved these cats!
The one thing we didn't do is go on a DMZ tour. Sadly there is a strict age restriction if you want to see the most interesting parts and Aggie is about a decade away from meeting it. I guess we'll have no choice but to return to this great city!
All too soon it was time to pack up and get back on the plane. Until our next adventure!